Event
---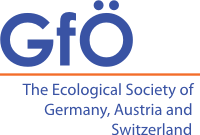 ---
---
Share on:
09/10/2018 - 09/13/2018 | Wien
Ecology - meeting the scientific challenges of a complex world
Anlässlich der 48. Jahrestagung der Gesellschaft für Ökologie von Deutschland, Österreich und der Schweiz treffen sich vom 10. bis 14. September 2018 mehr als 440 Teilnehmer aus 31 Ländern in Wien. In zahlreichen Vorträgen und Postern werden die neuesten Ergebnisse ökologischer Forschung aus diversen Themenbereichen vorgestellt, wie z.B. Biodiversität und Ökosystemdienstleistungen in Agrarökosystemen, die Notwendigkeit von Langzeitdatenreihen, Bürgerwissenschaften (Citizen Science), die Wirkung von Pestiziden auf Nicht-Zielarten, oder zum IPBES-Prozess (dem sogenannten "Weltbiodiversitätsrat"). Die vollständige Liste der Themen sowie eine Übersicht des Zeitplans für die Kurzvorträge sind auf der Tagungswebseite veröffentlicht: https://gfoe-conference.de/index.php?cat=program

Für die zentralen Vorträge der Tagung konnten wir sechs herausragende Persönlichkeiten gewinnen:
• Prof. Dr. Stefan Dullinger
(Department für Botanik und Biodiversitätsforschung, Universität Wien, Österreich)
• PD Dr. Stephan Hättenschwiler
(Centre d'Ecologie Fonctionnelle et Evolutive (CEFE), CNRS, Université de Montpellier, Frankreich)
• Prof. Dr. Claudio Gratton
(Department of Entomology, University of Wisconsin, USA)
• Prof. Dr. Nina Buchmann
(Departement Umweltsystemwissenschaften, Institut für Agrarwissenschaften, ETH
Zürich, Schweiz)
• Prof. Dr. Pedro Beja
(CIBIO – Research Centre in Biodiversity and Genetic Resources, University of Porto, Portugal)
• Prof. Dr. Kerry Naish
(School of Aquatic and Fishery Sciences, University of Washington, Seattle, USA)

Am frühen Dienstagabend, 11.09.2018 18:15 Uhr, hält Dr. Martin Sorg vom Entomologischen Verein Krefeld einen Sondervortrag zum Thema Insektensterben. Im Oktober letzten Jahres veröffentlichte Dr. Sorg zusammen mit niederländischen Wissenschaftlern und weiteren Kollegen die Ergebnisse aus 27 Jahren kontinuierlicher Insektensammlung in deutschen Naturschutzgebieten (Hallmann et al. 2017). Die Insektenbiomasse ging in diesem Zeitraum um 75% zurück – ein Ergebnis, das weltweit zu einem enormen Medienecho führte.

Ebenfalls am Dienstag, 11.09.2018, um 20 Uhr spricht Prof. Dr. Klement Tockner über "Die Domestizierung unserer Gewässer und das Ende der Natur". Prof. Tockner ist Präsident des Österreichischen Wissenschaftsfonds und Professor für Aquatische Ökologie an der Freien Universität Berlin. Der deutschsprachige Vortrag ist öffentlich und kostenlos zugänglich.

Am Donnerstag, 13.08.2018 14:00 Uhr, findet die Verleihung der diesjährigen GfÖ-Preise statt. Die GfÖ vergibt verschiedene Preise zur Auszeichnung hervorragender wissenschaftlicher und angewandter Leistungen in der Ökologie. Jeweils herausragende Masterarbeiten, Dissertationen und angewandte Projekte werden mit Förderpreisen ausgezeichnet. Außerdem werden Preise für zwei im GfÖ-Journal "Basic and Applied Ecology" erschienene wissenschaftliche Artikel vergeben. Schließlich wählen die Tagungsteilnehmer noch das beste Poster, und das beste Foto.

Am Freitag, 14.09.2018, finden schließlich Tagesexkursionen zu vier attraktiven Zielen statt: zum Nationalpark Neusiedler See-Seewinkel, ins Steppenrefugium im Weinviertel, in die subalpine und alpine Vegetation auf dem Schneeberg, und in den Nationalpark Donauauen. Für die Teilnahme an den Exkursionen bitte anmelden, es entstehen zusätzliche Kosten für Transport und Verpflegung:
https://gfoe-conference.de/index.php?cat=excursions
Information on participating / attending:
Der Vortrag von Prof. Tockner ist öffentlich und kostenlos zugänglich. Der Vortrag von Dr. Sorg ist nicht öffentlich. Journalisten sind während der gesamten Tagung herzlich willkommen und erhalten kostenlosen Zutritt. Wir bitten um Anmeldung unter presse@gfoe.org. Die Tagungssprache ist überwiegend Englisch. Pressemitteilungen zur Tagung und zu ausgewählten Beiträgen finden Sie unter http://gfoe.org/de/pressemitteilungen. Ein ausführliches Programm und Informationen zur Tagung finden Sie unter www.gfoe-conferences.de.
09/10/2018 13:30 - 09/13/2018 18:15
Universitätszentrum (UZA)
Augasse 2-6
1090 Wien
Vienna
Austria
Journalists, Scientists and scholars
Biology, Environment / ecology, Zoology / agricultural and forest sciences
Conference / symposium / (annual) conference
Presse- und Öffentlichkeitsarbeit
URL of this event: http://idw-online.de/en/event61230
---