Event
---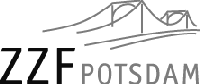 ---
---
Share on:
06/22/2017 - 06/23/2017 | Potsdam
Internationale Tagung zur Gesellschaftsgeschichte des Umbruchs
Systemwechsel stellen in vielfacher Hinsicht zentrale Zäsuren dar, das Leben geht aber weiter. Diese lapidare Feststellung verweist auf tiefer liegende Probleme von Gesellschaften im Umbruch, durch die der Systemwechsel aktiv oder passiv vorbereitet, getragen oder auch abgelehnt wird.

Programm

Donnerstag, 22. Juni 2017

13.30 – 15.00 Uhr
Begrüßung durch die Direktoren des ZZF
Inhaltliche Einführung Kerstin Brückweh (Potsdam)

Keynote Philipp Ther (Wien): Die Transformation von unten

15.00 – 15.30 Uhr Kaffeepause

15.30 – 17.00 Uhr
Panel: Wohnen und Eigentum. Zwischen Enteignung, Aneignung und Neukonstituierung der Lebenswelt
Moderation: Elisabeth Timm (Münster)

Paper: Ines Langelüddecke (Hamburg):
Aneignung und Umdeutung. Wie die Erben der früheren Gutsbesitzer in Brandenburg Geschichte schreiben
Kerstin Brückweh (Potsdam):
Ostdeutsche Eigenheime im Kontext. Eigentum, Raum, Zeit

Kommentare: Matěj Spurný (Prag), Hannes Siegrist (Leipzig)

17.00 – 17.30 Uhr Pause

17.30 – 19.00 Uhr
Panel: Politische Kultur, lokale Demokratisierung und Partizipation im Umbruch
Moderation: Detlef Pollack (Münster)

Paper: Markus Krzoska (Siegen):
Die Wahrnehmung der Umweltverschmutzung im ostdeutsch-polnisch-tschechoslowakischen ,Schwarzen Dreieck'. Massenphänomen oder Spezialistenproblem?
Anja Schröter (Potsdam):
Politische Kultur Ost? Lokale Demokratisierung und Partizipation vor, in und nach der friedlichen Revolution

Kommentare: Jan Palmowski (Warwick), Ned Richardson-Little (Exeter)

19.15 Uhr gemeinsames Abendessen

Freitag, 23. Juni 2017

9.00 – 10.30 Uhr
Panel: Zwischen Straße und Schulhof. Jugendliche Lebenswelten im Umbruch
Moderation: Sabine Reh (Berlin)

Paper: Christian Werkmeister (Halle):
Vom "punkigsten Land der Welt" zum "kulturpolitischen Uboot". Der Wandel eigenständiger Jugendszenen im sowjetischen Zerfallsprozess
Kathrin Zöller (Potsdam):
Hurra, hurra die Schule brennt? Schulische Lebenswelt in Ostdeutschland vor, während und nach 1989/90

Kommentare: Emmanuel Droit (Berlin), Thomas Lindenberger (Potsdam)

10.30 – 10.50 Uhr Kaffeepause

10.50 – 12.20 Uhr
Panel: Konsum und Gesellschaft in der langen Geschichte der "Wende"
Moderation: Heinz-Gerhard Haupt (Bielefeld/Florenz)

Paper: Katja Böhme (Potsdam):
Behalten, entsorgen, ersetzen. (DDR-)Dinge als Quelle für eine Sozialgeschichte des Umbruchs
Clemens Villinger (Potsdam):
Den Konsum im Dorf lassen. Ländliche Erwerbs- und Gebrauchspraktiken vor, während und nach 1989/90

Kommentare: Julia Obertreis (Erlangen), Asta Vonderau (Stockholm)

12.20 – 13.30 Uhr Mittagspause

13.30 – 15.30 Uhr
Roundtable: Lebenswelt im Systemwechsel. Gesellschaftsgeschichtliche Dimensionen einer langen Geschichte von "1989"
Moderation: Kerstin Brückweh (Potsdam)
Experten*innen: Matthias Middell (Leipzig), Claudia Kraft (Siegen), Michal Kopeček (Jena/Prag),
Raj Kollmorgen (Görlitz/Zittau), Jens Gieseke (Potsdam)
Information on participating / attending:
Die Keynote (von Philipp Ther, Donnerstag, 22.06.2017, 13.30 - 15.00 Uhr) und der Roundtable (Freitag, 23.06.2017, 13.30 - 15.30 Uhr) sind öffentlich, sonst Teilnahme nur nach vorheriger Anmeldung bei
Kerstin Brückweh: brueckweh@zzf-potsdam.de
06/22/2017 13:30 - 06/23/2017 15:30
Zentrum für Zeithistorische Froschung Potsdam
Großer Seminarraum
Am Neuen Markt 9 d
14467 Potsdam
Brandenburg
Germany
Journalists, Scientists and scholars
History / archaeology, Social studies
Conference / symposium / (annual) conference
URL of this event: http://idw-online.de/en/event57746
Attachment

Programmflyer zur Internationalen Tagung "Zur Gesellschaftsgeschichte des Umbruchs"
---